Tears are like prayers... each drop is a memory of Love!
My Mama
My Mama
Love My Mama!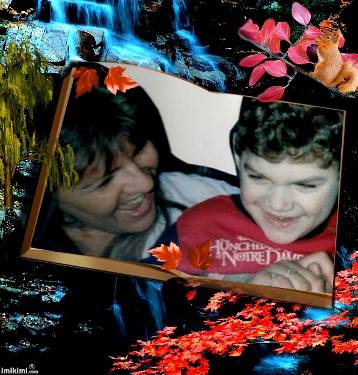 My Loving Mom
My mom was born on October 11,1963 in South Amboy, NJ. She lived in N.J. until she was 18 years old and then moved to Texas. She met my dad in March of 1988 and they were maried in December, on Christmas Eve. It's been a long time now. They really love each other and me. My mom has graduated with her Associates Degree and an 18 hour completion course as a Social Work Assistant. She is majoring in Social Work and grief counseling. She was accepted to TCU starting the August after my death. She completed one semester and then had to take a medical leave, but is looking forward to oneday finishing her degrees. I am so proud of her and I will be helping her from up above! She has done really good in school and has recieved alot of awards and scholarships. She is also a volunteer Wishgranter for Make-A-Wish. I shared a very special relationship with my Mama. She and I were VERY close and she was always there for me. She made sure I was taken care of very well. She cries alot because I am gone, but she knows where I am and who I am with. She loves the Lord God with all her heart and she knows I am waiting for her someday. When I was dying....she never left my side....she was in bed with me laying beside me....encouraging me to go home, that it would be okay. But I waited until she left the room to go say a special prayer....and thats when I went. She kept telling me that I was taking her heart with me when I left, so I had to wait until she took her heart away from mine so it could stop beating. She was very sad but also happy because God had answered her prayer! I was not ever going to suffer again and although I know she is suffering without me and having to learn to live without me....but she WILL BE OKAY! God is seeing to that. She was the best mom ever. I love you mama....remember???
In May of 2007, God planted a seed into her heart to start a bereaved mothers ministry called "A Hole in My Heart", and she is helping other mothers whose child has passed. She is reaching so many moms...please see her web site at www.aholeinmyheart.com . It is amazing! I know that I don't have to miss my mom now, instead I am joyfully anticpating her arrival one day. It is so beautiful here and I know what awaits her...and my daddy! I Love you forever Mama!!!!
The top picture is my Daddy and my sisters Alisha and Jennifer, the one under it is of my sister Elaina and her husband Jonathan

Here I might talk about other people in my family, or include a picture of all of us together at some special event.

THIS IS US...

Mama and Daddy
Mama and Daddy Out Riding at the Lake
My Mama and Daddy The Best Parents Ever!!!!!
Mama and Daddy on her birthday 10-11-2017
My Loving Dad
I love my daddy so much!!!
My dad was born on May 22, 1963 in Fort Worth, TX. He is a licensed plumber and has had his own business since 1992. He loves to fish, hunt and go camping. He's a real "Outdoorsman". My dad is a good man, and he adored me. I could always see his love for me in his eyes and feel it in his touch. I am and always will be his little boy! He married my Mama on December 24th, 1988! They have always taken the best care of me and it was their hardest decision to let me go....but they knew I would be in Heaven waiting on them with God and Jesus! They were baptized in 1995 and I was dedicated to the Lord on the same day. My dad really loved me and I sure loved him...even though I called him Mama....which was the one word I had down! But he knew what I meant! I did tell him one day on the phone "daddy come see me"! He was home in a snap to see me! He always called me Boo-Boo....such a cute name....and everyday he'd come to my bed and say "Daddy loves you Boo-Boo". That meant so much to me. I will forever miss him and I know he misses me too. Someday....we will see each other again. He can take me fishing for the first time ever!
My dad is such a good daddy and even though we couldn't do the things on earth that he wanted to do...or teach me the things he wanted to...I know he loved me very much . There is so much to do outside here in Heaven, we're gonna have a blast together! I know my daddy shed many tears over my leaving, but I know he has my mama to help him through and together they are gonna be alright! Poppy and Pop are here and they are keeping me company...we're all gonna fish together oneday! And wait till dad sees the fish in heaven...they are amazing! Everything is amazing. I'll be here waiting for you daddy! I know you dedicated the song "Who You'd Be Today" by Kenny Chesney to me when I passed cause you wondered who I'd be today...well, I am ME, Robert Scott Ater and I'm the happiest little boy ever for having you as my dad! I love you!

Roberts Sisters! Jen, Alisha, Elaina And Jamie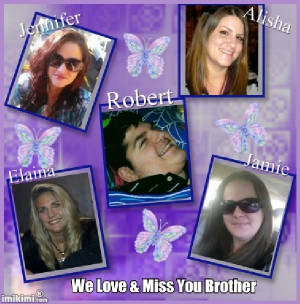 My Sisters. These are photos of my 4 sisters. Jennifer, Alisha, Elaina and Jamie-Lynn. Some pictures were taken at Chandor Gardens in Weatherford, TX and other various places. It was a beautiful day at the Gardens....even though they were all sad about me. They had a fun day together and talked about me often. Each one of them put a letter in my casket at my funeral, and Jamie-Lynn, who just had a baby and couldn't be here mailed mama a poem....as far as the letters they wrote me, I'll be holding them in my hands the day I see them again. They all loved me very much and although I couldn't say it back....they knew I loved them too!
Elaina, Jon,Vinny, Weston and Gracie 2017
LOVE MY FAMILY...